Onboarding 65 developers in a month during a pandemic wasn't going to be easy. We knew that much. But we didn't expect it to be that hard. It was overwhelming.
That led us to build a tool for onboarding new engineers. As we deployed it to help our developers become productive quickly, we started realizing that every engineering team needs it. That epiphany led to a full-fledged engineering enablement platform that combines our interactive learning library with our hard-won onboarding expertise to help engineering teams learn faster.
Today, as a result, I'm excited to announce the launch of Educative Enterprise.
Engineering Enablement…for Developers
Over the years, Educative's product offerings have grown with our learners' needs. Not only did we add multi-seat team management and single sign-on for groups, but our library has grown beyond Courses to include Paths, Plans, Assessments, and Projects so that engineers can plot and track their goals, as well as show what they've learned in rich, interactive environments.
Educative Enterprise is no different. We sincerely believe that great products are built by engaged and empowered development teams. There aren't just product roadmaps but career roadmaps.
The key to success for engineering teams is fitting those growth goals into their team onboarding processes. Each and every developer has different technology needs – different programming languages, frameworks, experiences, and corresponding familiarity with your tech stack.
Some software engineers want to stay on the IC track and become partners or technical fellows, while others desire to move up the management ladder, coaching teams or designing products for a market need understood through product management efforts.
Each track requires different learning, and without getting the right experience and the right challenges, developers will leave. Churn is a constant for most engineering teams. But it doesn't have to be. What if we could give every engineer a direct integration to the team, clear access to challenging learning and exploration resources, and help retain them with deep expertise in delivering product solutions?
It could look something like this: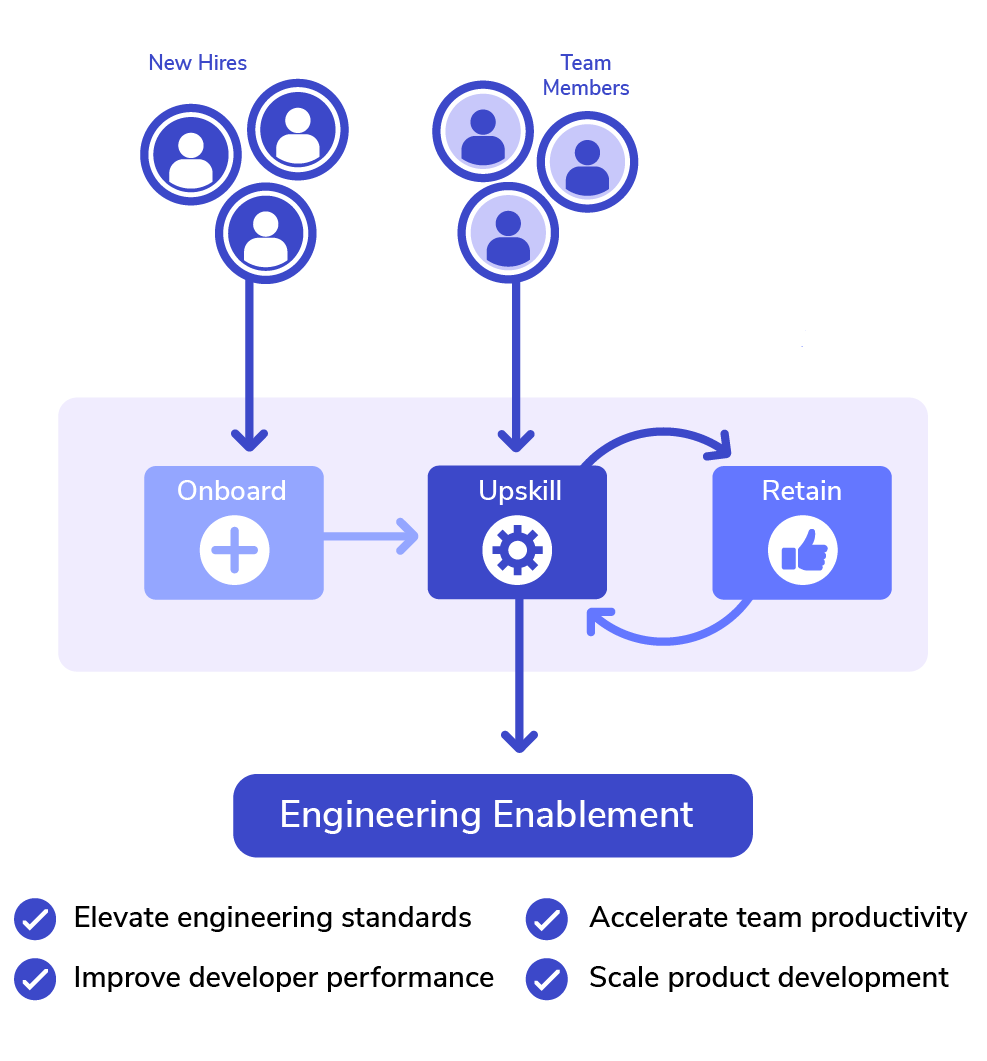 This is what Educative Enterprise is. An engineering enablement toolkit not about the processes and the tooling used for your code repository and maintenance, but about the resources and experiences offered to software engineering teams.
Educative Onboarding
Educative Onboarding is the linchpin of our solution. It brings together your team's relationships, company documentation, and Educative's leading library of Courses to build personalized learning and development plans for new team members.