Huffman coding
Huffman coding is a data compression algorithm used to reduce data size and generate optimal, variable-length coding.
In fixed-length encoding, all the letters/symbols are represented using an equal number of bits.
For example: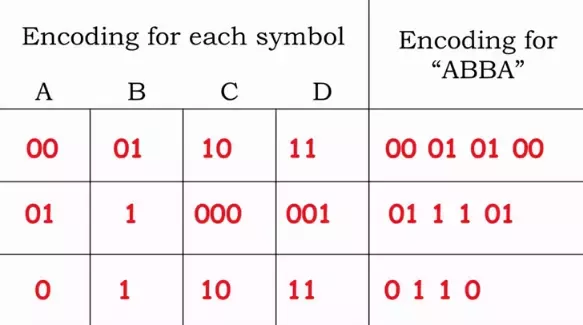 Here, the first row is fixed-length encoding where all the symbols are represented using an equal number of bits. Fixed length encodings have the advantage of random access. Since every letter contains an equal number of bits, if we wanted to, for example, see what the 4th letter is, we would skip the appropriate amount of bits. Fixed length encodings work well when all the possible choices have an equal probability of occurring.
In languages (e.g., English), some letters occur more frequently than others. Therefore, it would be very inefficient to use lengthier bit representations for letters that occur very frequently.
However, we face certain problems when we try to represent a frequently occurring "e" with a 0, and a rare "z" with a 110.
When we try to decode the third row from the table, which is " 0 1 1 0", it could mean :
"ABBA" = 0 1 1 0
"ADA" = 0 11 0
"ABC" = 0 1 10
This kind of encoding is wrong since it is ambiguous.
To avoid such ambiguity we need a binary tree representation.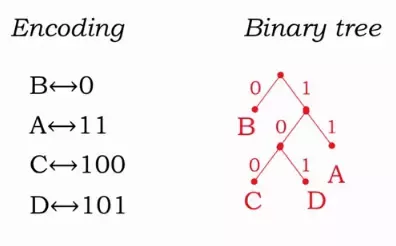 The above image shows how to encode with a binary tree. Every time we finish decoding a letter, we start at the root again.
Suppose we are asked to decode "1100101", we would start at the root and traverse the binary tree until a leaf was found. This encoding gives us the answer "ABBD". Now, suppose you are given certain symbols and the frequency in which they occur: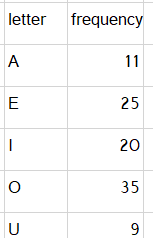 Huffman coding gives us a method to build a binary tree for the letters in the table above.
The Huffman Algorithm has a "bottom-up" approach, meaning we start with the tree's leaf nodes. The algorithm states that we should start with the symbols that have the lowest frequency. So, we start with the letter with the lowest frequency, which is, in this case, U(9) and A(11).