console.log("%cJavascript Jeep 🚙in Blue", "color:blue; font-size:50px");

The above code will result in:

Having multiple styles
We can also apply multiple styles to the message. Use %c before each part of the string and pass a separate style for each %c.
console.log("%cJavascript Jeep 🚙in Blue %cJavascript Jeep 🚙in red", "color:blue; font-size:50px", "color:red; font-size:50px" );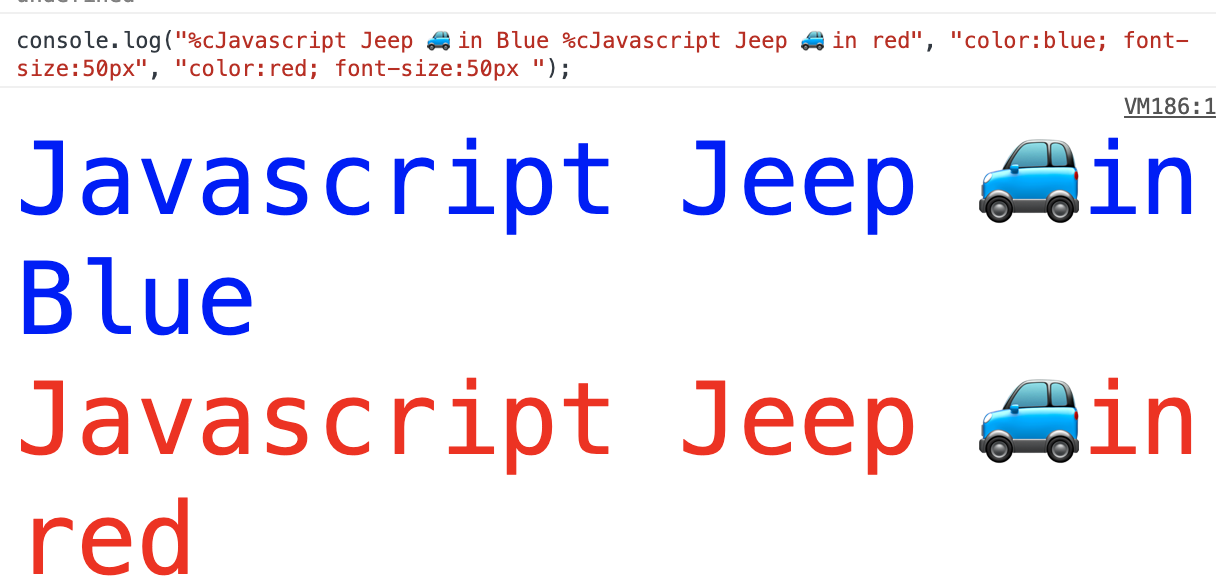 Passing the style as a string
var style = "color: red; background: #eee; font-size: 50 ";

console.log("%c Javascript Jeep 🚙in Blue",  style);

Adding an image to the console
We can add an image to the console by using the background-image property from CSS.
var styleArray= [
  'background-image:    url("https://media.giphy.com/media/2dQ3FMaMFccpi/giphy.gif")',
  'background-size: cover',
  'color: #fff',
  'padding: 10px 20px',
  'line-height: 35px',
  'width : 70px',
  'height : 70px',
  'border : 5px solid black'
];
console.log('%cI love you!', styleArray.join(';'));


Surprising your customers
var style = 'color: tomato; background:#eee; -webkit-text-stroke: 1px black; font-size:30px;';

console.log('%cHi, We are Happy 😆 to have you as our customer', style );



Creating the Facebook stop 🛑 message in the console
If you have opened the console on Facebook, you have undoubtedly been greeted by the "stop" message. Instead of "stop", let's print a welcome message.
const style = 'color:red; font-size:30px; font-weight: bold; -webkit-text-stroke: 1px black;'
console.log("%c Javascript Jeep Welcomes you", style);



---
Tips
If you want to prevent console.log from being used by users, then we can assign the value of console.log to our function.
console.log = function() {
   console.error(" Logging by user is disabled ");
}
console.log("Testing...");