Multi-label classification problem
Now, let's take a look at the the multi-label classification problem:
path2 = untar_data(URLs.PASCAL_2007)

df = pd.read_csv(path2/'train.csv')
df.head()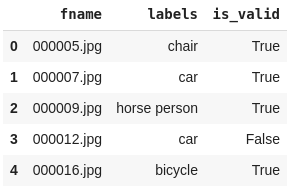 pascal = DataBlock(blocks=(ImageBlock, MultiCategoryBlock),
                   splitter=ColSplitter('is_valid'),
                   get_x=ColReader('fname', pref=str(path2/'train') + os.path.sep),
                   get_y=ColReader('labels', label_delim=' '),
                   item_tfms = [FlipItem(p=0.5),Resize(224,method='pad')],
                   batch_tfms=[*aug_transforms(do_flip=True, flip_vert=True, max_rotate=180.0, max_lighting=0.6,max_warp=0.1, p_affine=0.75, p_lighting=0.75,xtra_tfms=[RandomErasing(p=1.0,sh=0.1, min_aspect=0.2,max_count=2)]),Normalize])
dls2 = pascal.dataloaders(df)
dls2.show_batch()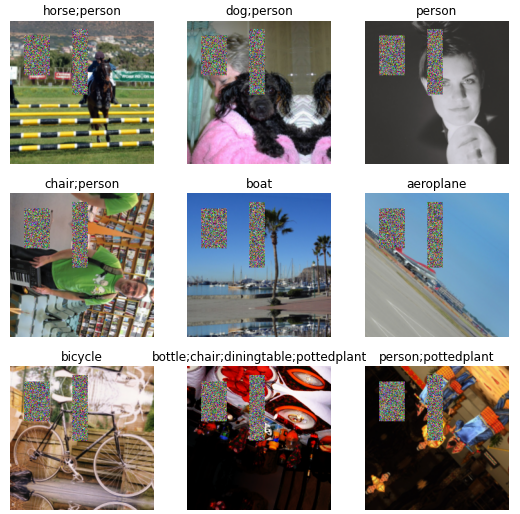 Here, the basic principles remain the same depending on which domain blocks are used.
Now, we saw splitters in the first example since we used RandomSplitter and did not have any rule on how to split the data. However, this is not the case in the second example. In the second example, we have a column called is_valid in df. So, depending on that column, we can determine whether we need to split, so ColSplitter('is_valid') is used.