Common questions about pull requests
Do multiple pull requests to the same repository count? Yes!
Do issues/commits count for Hacktoberfest? No, only pull requests are part of this challenge.
Does it count to make pull requests made on my own repositories? Yes, but you are encourages you to contribute to other repositories as well.
Do pull requests have to be accepted/merged? Pull requests must have been merged, approved, or labelled as hacktoberfest-accepted to count towards your goal.
How do I know if my PR went through? Only PRs that are marked as "Ready for Review" will be reviewed. Draft pull requests do not count.
Do issues have to be tagged #Hacktoberfest? No, they can be on any public repository to count.
Do other companies participate with Hacktoberfest? Yes, other companies recognize Hacktoberfest and offer prizes for tracking progress. For example, Dev.to has a Hacktoberfest challenge.
Can I make contributions outside of GitHub? No.
How do I check my progress?
To check your progress or the status of your pull requests, just log in to DigitalOcean's Hacktoberfest page with your GitHub account.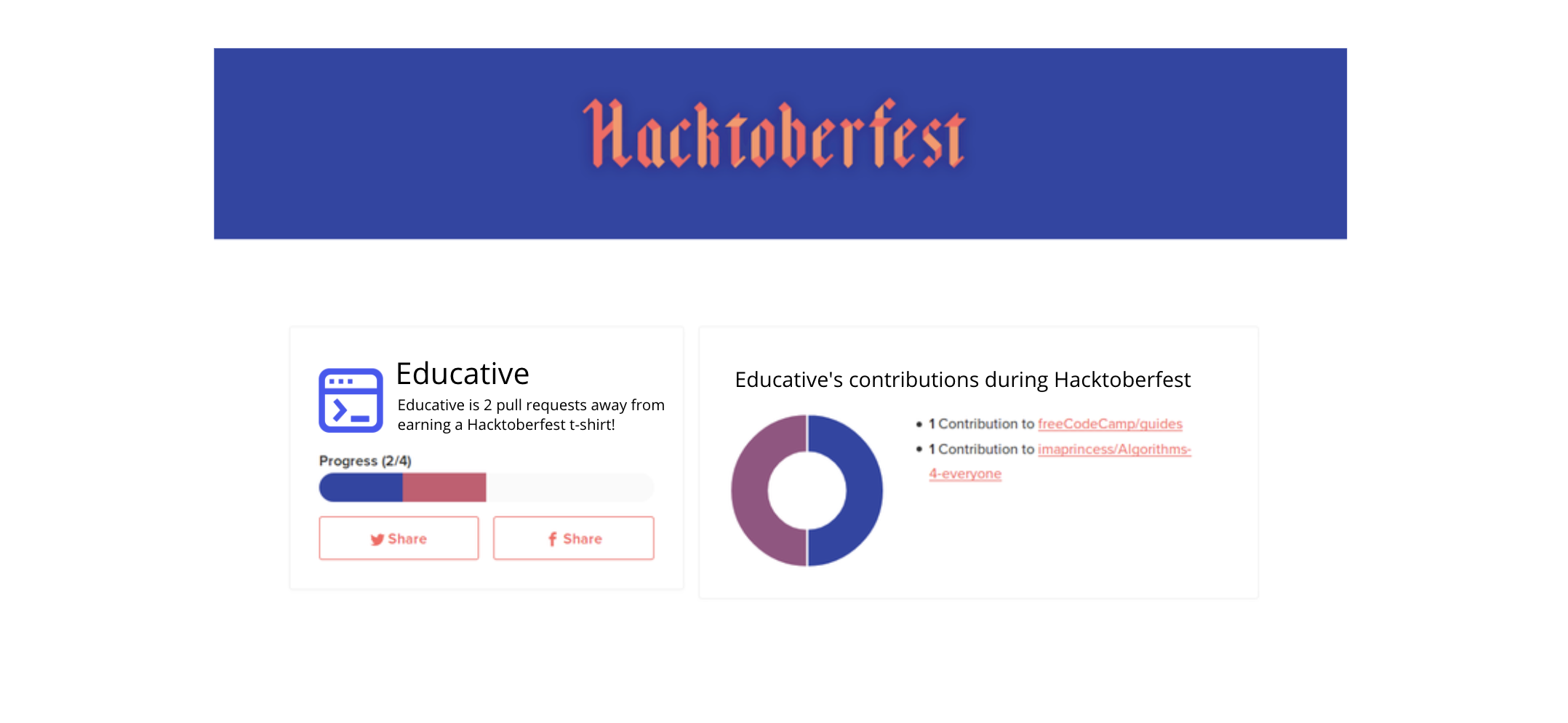 There is a one week review period for all pull requests. If your PR is not marked invalid during that window, it will contribute toward your goal. If your pull request is labeled as invalid, you will need to submit another eligible PR or resolve the issue the current PR.
Remember: T-shirt awards on awarded on a first-come, first-serve basis to the first 70,000 participants! So get started now!
Resources to get started
There are a lot of resources out there for getting started on your Hacktoberfest projects. We've compiled a short list of the best, official resources for your preparation.
For Git beginners, we recommend taking Educative's course A Guide to Git & Version Control to familiarize yourself with pull requests and GitHub. It's important to make pull requests properly, and this course will ensure you're prepared! It is your no-fuss, comprehensive guide to version control and Git.
Happy learning, and happy Hacktoberfest!