Technology stacks and architecture patterns
It is one thing to understand how microarchitecture works and another to actually build and implement it. That's why we want to focus on the various technologies available to you for an entire microservices system. Let's walk through some different tech stacks, patterns, and designs for creating an executable microservice architecture.
Micro and Macro architecture decisions
It is advisable to divide your architecture into micro and macro architecture. The micro architecture involves all decisions made for each microservice. The macro architecture involves all decisions made at a global level that apply to all microservices.
It is possible to extend the concept of micro and macro architecture to technical decisions. Technical decisions can be made within the framework of macro or micro architecture. For example, take a look at the technical decisions to be made at the micro and macro levels for a database:
Micro: Each microservice can have its own instance of the database. If databases were defined at the micro architecture, a crash of one database will only lead to the crash of one microservice. This makes the whole app far more robust.

Macro: The database can also be defined as part of the macro architecture. Multiple microservices must not share a database schema.

Self-contained systems
A self-contained system (SCS) is a type of microservice architecture that specifies the elements of a macro architecture. This means they do not represent the whole system. Since an SCS is self-contained, it provides everything you need to implement one part of the domain logic, such as log data and a UI. SCSs also have an optional API.
For example, an SCS for a microservice payment would store information relevant to that payment as a bounded context. It would also implement the UI to show the payment history, and data about the customers would be replicated from other SCSs.
Think of these as a collection of best practices; SCSs provide precise rules based on established patterns, offering a point of reference for how to build a microservice architecture. All of these rules ensure that an SCS implements a domain, so an added feature only changes one SCS.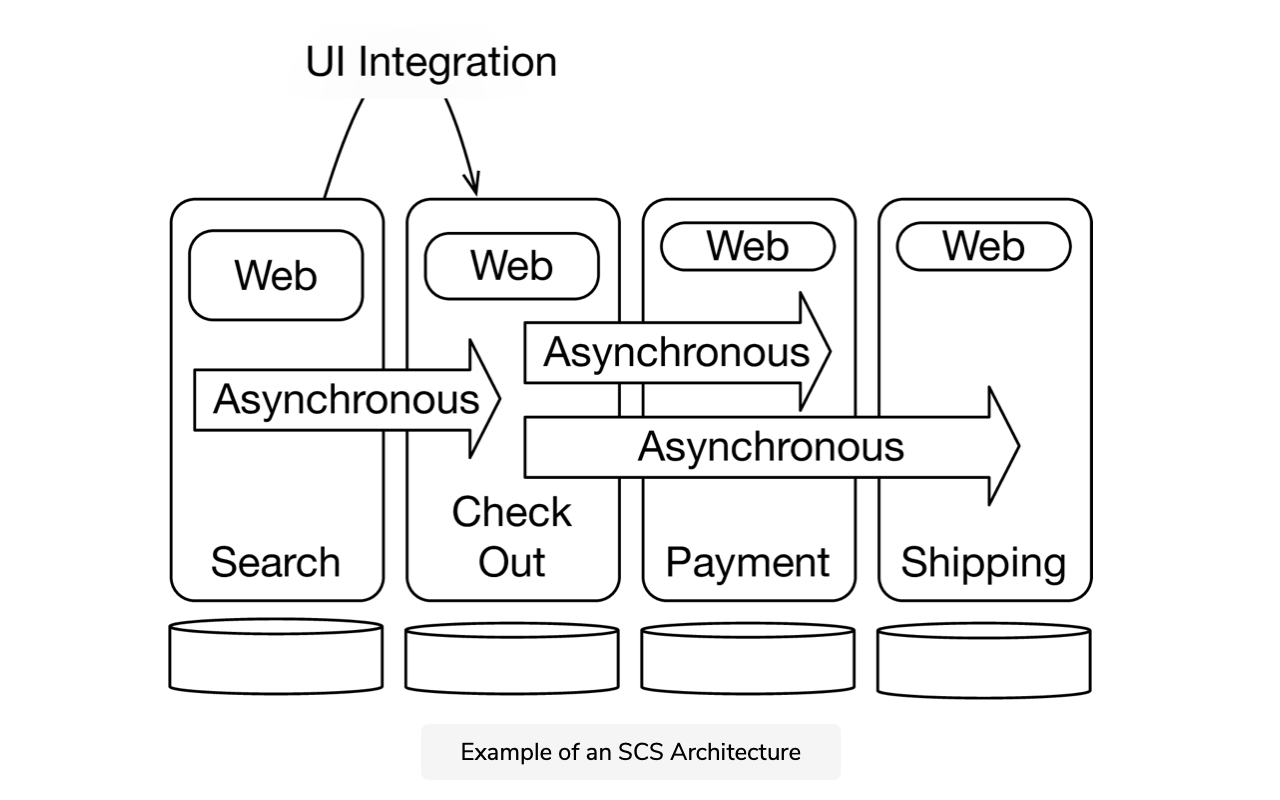 We can think of an SCS as a microservice architecture because it can be deployed independently and divide a system into independent web applications. In fact, one SCS can even be split into several microservices. They differ from microservices in three main ways: they are larger than microservices; they focus on loose coupling; they must have a UI.
Frontend Integration
Microservices can also be integrated with a web frontend. Dividing the frontend into different modules helps to solve some of the problems that come from treating it as a monolith. A modularized frontend is made up of separately deployable microservices. This can bring many benefits to your frontend.
For example, a modularized frontend can have independent domain logic, and a change in the domain can be implemented simply by modifying only one microservice. To combine separate frontend, they must be integrated, so an integration system is necessary.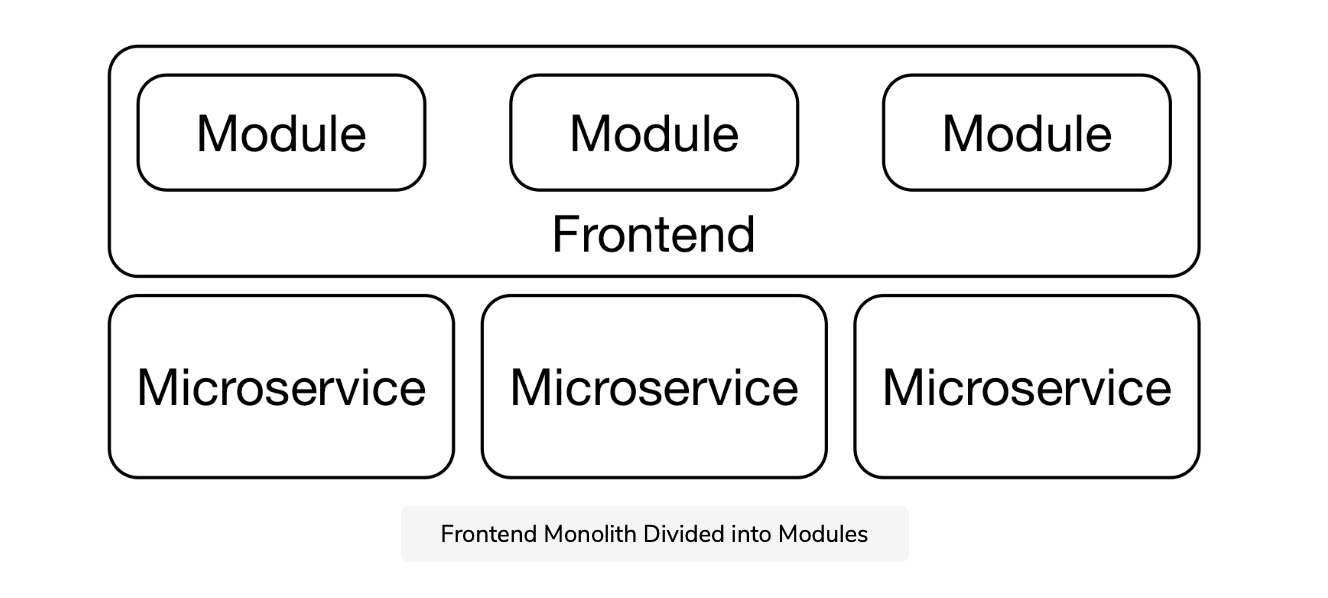 This can be accomplished through links, where one frontend displays a link that another frontend reads and handles. This can also be accomplished through redirects, for example, how OAuth2 handles frontend integration. Redirects combine data transfer with frontend integration.
There are, however, a few exceptions when a frontend should be deployed as a monolith. For example, native mobile applications should be deployment monoliths or if there were a singular team responsible for frontend development.
Asynchronous Microservices
Synchronous microservices make a request to other microservices while it processes requests and waits for results. Asynchronous communication protocols send messages that the recipients react to, but there is no direct response. A microservice could be defined as asynchronous if it does not make requests to other microservices while processing, or it makes requests but does not wait for results.

Asynchronous microservices offer several notable advantages to synchronous microservices and resolve many of the challenges of distributed systems. The logic required to handle microservice requests does not depend on results, making them far more independent.
Similarly, if a communication partner were to fail, it does not crash the whole system, offering overall resilience to your system. On top of that, the processing and delivery are almost always guaranteed.
Some common examples of technologies for asynchronous microservices are Kafka (a MOM commonly used for messaging), REST and Atom data format (for additional infrastructure).
Microservices Platforms
Microservice platforms, such as PaaS and Docker scheduler, support the operation and communication of your microservices. These technologies enable communication between microservices for deployment, log analysis, and monitoring.
For example, these platforms support HTTP and REST with load balancing and service discovery. Limited operations support is needed for the implementation of microservices, so they can be quickly deployed and support multiple microservices.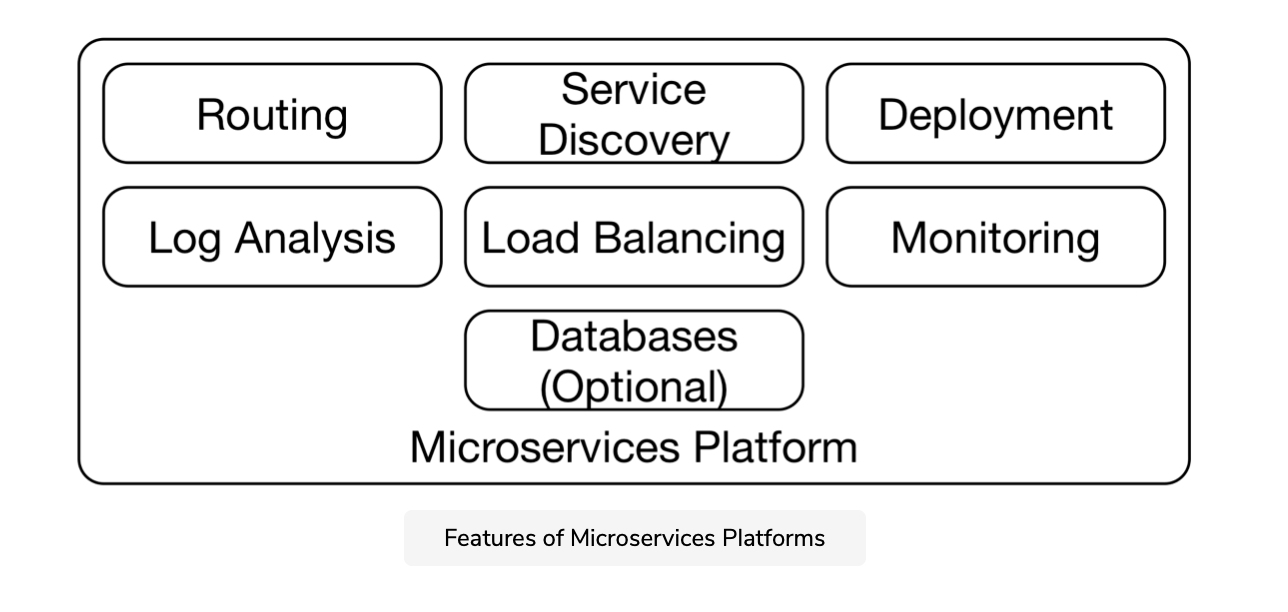 Microservices platforms represent a simplification and solution to common issues. Some notable platforms are Kubernetes and Docker, which is very important for microservices operations. PaaS and Cloud Foundry are also useful but they are not as popular.
It's important to note that migration to these platforms requires a change to the operation and installation of applications, which can make the use of a microservices platform a big and timely step. This is the main drawback of microservice platforms.