The need for personalized learning
Today's online learning ecosystem is larger than ever before.
As long as we have internet access and a working computer, we can learn programming concepts from a plethora of online resources, including:
Technical documentation
Blogs
Tutorials
Forums such as Stack Overflow
Online courses (video-based and written-based)
The Stack Overflow Developer Survey keys the world in on the state of developer learning every year. Between 2021 and 2022, Stack Overflow found that online learning increased from 60% to 70% among those learning to code.
In addition to other online resources, nearly 50% of those learning to code reported using online courses: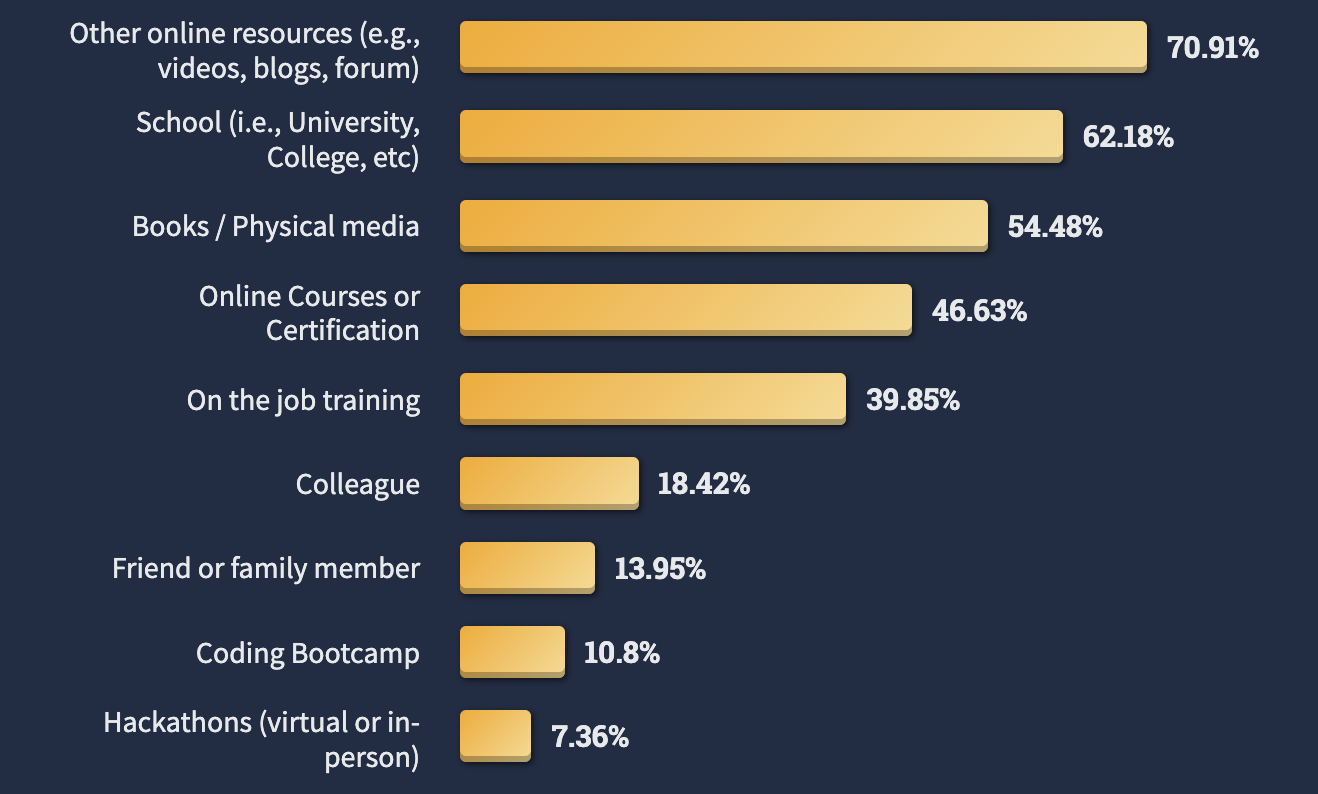 While these stats were focused on aspiring developers, experienced developers also use online courses — a large portion of Educative's learners are experienced devs looking to gain new skills. But even outside of Educative, online courses are popular among developers of various skill sets.
The prevalence of Massive Open Online Courses (MOOCs) is one strong indicator of both the popularity of online courses — and our faith that they'll get us results. Compared to taking online courses from bootcamps or educational institutions, MOOCs bring learning material to people at a lower cost with little to no prerequisites. However, they've been shown to have downsides, including passive participation and a difficult user experience. (Here's a Forbes contributor on the MOOC bait-and-switch.
Indeed, MOOCs risk low participation rates. Part of this comes from the fact that it's all too easy to switch to passive learning when you're watching a video-based course. But MOOCs suffer from the same downsides that many other online courses have.
Despite the benefits of online learning, learners can lose the guided, hands-on learning experience that they could otherwise get in in-person settings such as classrooms.
At Educative, we've been thrilled to have high student-retention and course-completion rates. This is because our courses are text-based and interactive. Devs don't just watch and learn. They write code with an in-browser code editor to apply what they learn, from wherever they are and whichever device they're on.
Educative has already created a learning experience that translates various crucial components of in-person learning to our learning platform:
Interactivity and hands-on learning with an in-browser code editor and quizzes
Assessing skill proficiencies and areas for improvement with Assessments
But, beyond this, there's still so much more to be done to make online learning more tailored and hands-on. To keep improving our offerings, we added two new tools to Educative in 2022 as important steps in promising the most effective online learning experience possible for developers.